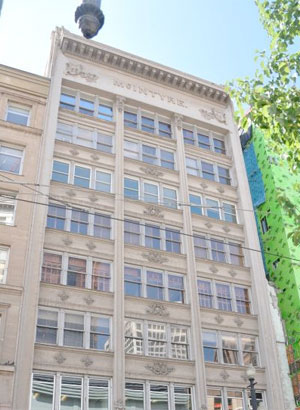 Contact Information
68 South Main Street, 6th Floor
Salt Lake City, UT 84101
Telephone: (801) 531-8400
Facsimile: (801) 363-3614
Satellite Office (Bruce, Spencer, Dennis and Karen)
5292 College Drive, Suite 203
Murray, UT 84123
Telephone:
(801) 428-1810 (Bruce)
(801) 428-1811 (Spencer)
(801) 428-1812 (Dennis)
(801) 428-1813 (Karen)
Location
We are located in the historic McIntyre building in downtown Salt Lake City (designed by Richard Kletting, the "Dean of Utah Architecture" who also designed of the Utah State Capitol, among other notable structures).  The building sits on the west side of Main Street just north of 100 South street.  The entrance to the building is immediately north of the entrance to Rite Aid.
Validated Parking
We provide validations for City Creek Parking and Regent Street Parking.  The most convenient parking lot to our building is City Creek West and can be easily accessed on West Temple between 100 South and South Temple (you can only enter this lot from the northbound lanes). All other City Creek Parking entrance will work.
Regent Street Parking is located just east of Main Street (between Main and State) and runs north-to-south from 100 South to 200 South.   You can see a map of the area here: Click this link
There are two entrances to Regent Street Parking.  One is a ramp accessible from the north side of 200 South just west of Carl's Jr.  The other is on the south side of Orpheum Avenue, which runs between Regent Street and State Street.  Take a ticket and park in any space not marked "Reserved."
Street Parking
There is metered parking along Main Street in front of the McIntyre Building and on the south side of 100 South between Main Street and West Temple.  The best way to get to these spaces is to drive north on West Temple, then turn east (right) onto 100 South.